610/615n EIO Jetdirect Card
I recently found a thread on fixyourownprinter.com detailing how to revive a dead 610/615n EIO JetDirect Card using a hair-drier. As unlikely as it sounds, I tried an evolved version of the method (using an oven to bake the card) on a dead 615n card that I had and sure enough, I now have a fully functional HP 615n EIO card again!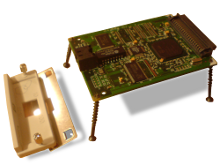 Reading through the thread, the theory is that the 615n EIO cards were one of the first cards that HP made with unleaded solder. This wasn't very reliable and as a result, the solder joints on the board can break over time; presumably it's the heat generated when the board is in use compared to the cooling when it isn't.
Apparently, HP replaced these cards free of charge for a few years, but I didn't even bother to call them. After all, my card lasted for years.
So, on to the recipe!
Remove the plastic bezel and put a screw into each of the holes in the corners to create legs. Then stand it on a baking tray - I covered my tray in foil in case anything melted off the card - and pop it into an oven preheated to 205C. After five minutes, switch off the oven and open the door. Leave the card in place to cool (if the solder joints are too soft you might dislodge a component).
That's it! Once the card has cooled down, fit the bezel back and install it into your printer. Of course, I can't guarantee that it'll fix your problem but it certainly worked for me. Check the forum to see how many people it worked for - and for how many it didn't. If this does work for you - and you don't mind signing up to the forum - let them know, I'm sure that they'll appreciate it.
Cooked Card Update!
Since I first repaired an HP615n EIO card by baking it in my oven I've found and repaired a second card. The first one has been running for a few months now without any problems so it's a worthwhile fix, the second has been kept as a spare.
---
610n EIO Jet Direct Locked Out After Password Change
The password on these cards have a maximum length of sixteen characters but there is no limit to what you can type when you set them up. Consequently, if your password happens to be longer than sixteen characters it will appear that you are locked out. Just use the first sixteen characters of your password and you'll get back in without having to do a cold reset on the printer.
---
2600n Print Spooler Freezes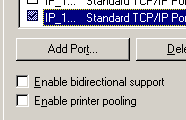 One of the staff members that I support recently had an issue with an HP 2600n colour printer that had been shared on the local network. Others were able to print but each time he tried the print queue would get stuck and only restarting the print spooler on the server would get the pages to print.
We tried reinstalling drivers on the clients and server - see more on that below - but to no avail. Eventually, a google on Google gave me this blog post. Sure enough disabling the bi-directional printer support did the trick and the print queue has been working without any problems since.
Installing the print drivers for the 2600n was more trouble than it should have been. The drivers for Windows Server 2003 and Windows XP were only available from HP as a 'full software solution' and a 'plug and play package'. As all I wanted was the driver, I used 7-Zip to extract the plug and play solution to a folder, then browsed to that folder when Windows asked if I 'had a disk'.
---
Print Spooler Crashed - Faulting Module ZSR.DLL
Application Error: Faulting application spoolsv.exe, version 5.1.2600.5512, faulting module ZSR.DLL, version 6.20.1625.0, fault address 0x********.
System Error: The Print Spooler service terminated unexpectedly. It has done this n time(s).
Some PDF documents - for some reason as yet unknown to me - can crash the print spooler and leave these error messages in the event log. Restarting the print spooler is usually followed by the spooler crashing again with the same error.
To fix the issue, you need to delete the PDF print job from the queue. Restart the print spooler, right-click the job and select cancel. You have to be quick because once the spooler crashes, you can't delete the job.
If you can't delete the job from the queue quickly enough, you can remove the spooled jobs from the print-queue manually. The default location for the print queue on Windows Systems is c:\Windows(WINNT)\system32\spool\PRINTERS. Here you will find SPL, SHD and possibly TMP files for any print jobs that are currently spooling. If your print spooler has stopped, delete the files you find here and restart your print spooler.
In case you're curious:
SPL files are the actual spool (print job) files.
SHD files provide information about which printer the print job was sent to and from whom the print job came.
TMP files are usually associated with LPR print jobs.
---
Print Spooler Crashed - Faulting Module hpzpnp.dll
More HP inspired print server shenanigans! This one appears to be related to Windows UAC but I haven't really taken the time to find out yet. The spooler just kept crashing leaving this in the event log.

Faulting application name: spoolsv.exe, version: 6.1.7600.16661, time stamp: 0x4c6f578f
Faulting module name: hpzpnp.dll, version: 61.71.661.41, time stamp: 0x45e81ffc
Exception code: 0xc0000005
Fault offset: 0x0000652e
Faulting process id: 0x594
Faulting application start time: 0x01cb60a77f347862
Faulting application path: C:\Windows\System32\spoolsv.exe
Faulting module path: \\?\C:\Windows\System32\spool\drivers\w32x86\3\hpzpnp.dll
Report Id: c100df28-cc9a-11df-9c72-005056c00008

I couldn't remove the drivers elegantly because the spooler service kept crashing out so I booted into safe mode, deleted the HP driver files from C:\Windows\System32\spool\drivers\w32x86\3 and rebooted. After re-installing the latest driver from HP my print spooler stopped crashing. (Yes, it was very over-the-top but it got the job done!) If I get this again - and I suspect that I will - I'll take a little more time to investigate and post my findings here.
BTW, if you follow this little gem of information and delete driver files, don't be surprised if it all goes wrong. To quote Q, "Alway have an escape plan..." In other-words, BACKUP your important files and be ready to restore/reinstall.
---
HP 4345 MFP Series LCD Screen has no power
Remove the Screen and re-seat the ribbon cable.
---
Jetdirect Server
To reset the configuration to the default settings, push and hold the test button, insert the power cable and release the test button after 10 seconds. Once you have reset the server, you can press the test button again to see the current config, including what IP address has been assigned if you are running DHCP.
---
Useful Links